News
Accessing the 6GHz band: introducing SuperPod with WiFi 6E
by Plume Team
September 2022
WiFi 6E, the newest WiFi standard, extends the transformative features of WiFi 6 to the 6 GHz spectrum. This means more capacity than ever before to support bandwidth-hungry devices like video streaming sticks, gaming consoles, virtual reality headsets, and Internet of Things (IoT) equipment.
Market forecast figures from Wi-Fi Alliance indicate that some 2.3 billion WiFi 6 and WiFi 6E-capable devices will ship this year, of which 350 million will be WiFi 6E (6 GHz) capable. The problem? None of these devices will be able to take advantage of the new 6 GHz band without a powerful 6E router. That's why we're excited to introduce the new SuperPod with WiFi 6E.
What's the difference between WiFi 5 and 6E?
The main difference is the addition of that 6GHz band. WiFi 6E operates in the 6GHz band as well as the 2.4GHz and 5GHz bands that WiFi 5 uses. What difference does this make? Let's use a traffic analogy:  if the 2.4GHz band is a one-lane highway and the 5GHz band is a three-lane interstate, picture the 6GHz band as a new seven-lane superhighway, and only 6E devices get access to the fast lane.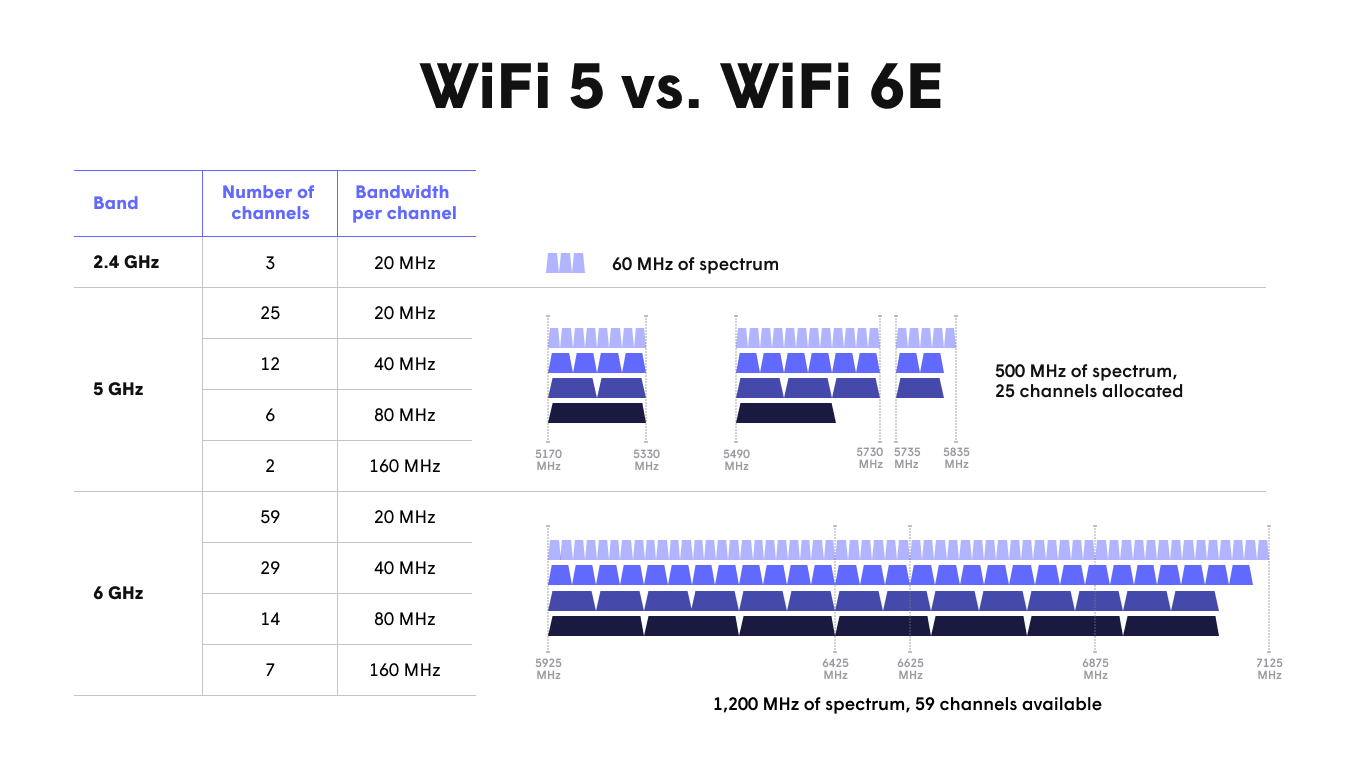 WiFi 6E includes support for up to 14 80MHz channels or seven 160 MHz channels. More available channels mean more available spectrum for WiFi service and less overlap between networks in crowded areas like apartment complexes or offices. And support for an even wider range of connected devices, enabling ample room for your network to grow as our devices continue to become smarter. 
What's unique about the SuperPod with WiFi 6E ?
We've listed the benefits of the new SuperPods to help you figure out if it's time to upgrade. If you want to upgrade to 6E, we recommend you upgrade all SuperPods (or access points) on your network to fully benefit from all that WiFi 6E has to offer.
The more devices there are, the more need there is for intelligent steering. To fully realize the powerful promise of WiFi 6E, it must be paired with a platform (like Plume) that can intelligently monitor and optimize home networks in real-time to utilize the full spectrum for both IoT devices and backhaul. The unique, adaptive WiFi technology from the Plume Cloud is what sets SuperPods with WiFi 6E apart from competitors: they can intelligently steer devices across the expanded WiFi 6E spectrum both quickly and efficiently, for a seamless experience.
Faster performance for bandwidth-hungry, 6E devices. If you already own 6E-compatible devices or you're planning to start upgrading, you'll need to upgrade to SuperPods with WiFi 6E. While your new devices will work just fine with earlier generation SuperPods, only those with WiFi 6E can support the full potential in 6E-enabled devices.  
Near-zero channel interference. Interference can really slow down your WiFi's performance. But with intelligent steering from the Plume Cloud along with access to the 6 GHz band, your network can operate with relatively no interference from nearby channels.
Are you ready for the future of smart home WiFi?
When we first launched our SuperPods, we wanted to empower our members to move beyond outdated WiFi systems and finally enjoy fast, uninterrupted WiFi that spanned across their homes and adapted to their lifestyles. Now, with SuperPods with WiFi 6E, you can leverage cutting-edge smart home device management technology that gives you access to the latest and greatest WiFi capabilities. And since all devices will eventually be WiFi 6E compatible, you'll be ready for any devices or smart home gadgets the future may bring.