Connected Living
What is wireless home automation?
by Plume Team
June 2022
What's it like to live in a fully automated home? Your lights switch on or off automatically depending on the time of day or number of occupants in a room. You can close your garage door remotely from an app on your smartphone and set your refrigerator to automatically order groceries when you're running low. You can even manage your home security system remotely when you're not at home—and since these features are part of a larger network, you can control them all from one central location.
While this might seem like a futuristic Rube Goldberg solution to set up, automating simple tasks at home can actually save you a lot of time and energy (both your energy and your electricity costs).
Advancements in smart home technologies mean that many regular electronic or battery-powered devices—like refrigerators, coffee makers, and baby monitors—can connect to the internet. These smart, internet-connected devices are the basis of what's known as the Internet of Things (IoT), the network of physical objects—smart devices—that connect and exchange data with other devices. Programming these devices so they function automatically with little interference from humans can seem a little daunting until you understand how they all work together.
What is wireless home automation?
Wireless home automation is the automatic control of internet-connected household electronic devices and appliances.It allows you to create custom schedules for devices, turn devices on or off, and change other settings to fit your preferences. Plus, you can control everything remotely from a smart home manager app. 
For example, with home automation, a smart thermostat can automatically adjust the temperature thirty minutes before you wake in the morning, then switch to a more energy-efficient setting when you leave for the day. Smart lightbulbs can be scheduled to turn on when you want to get up in the morning and to turn off when it's time for bed. This can help make your morning and nighttime routines smoother with less time and effort spent doing manual tasks, and it can help you save on energy costs.
Smart lighting systems also provide added security when indoor and outdoor lighting is activated during specific times of day, or when unwelcome guests roam your property (like a raccoon ransacking your garbage or the neighbor's cat stealing snacks out of the garage). Smart security lighting can also help you see when a delivery driver arrives with your packages or your dinner.
Smart home devices can even work together through the connected ecosystem of IoT. For example, a smart security camera can trigger indoor and outdoor lighting to turn on when motion is detected by a specific motion sensor inside or outside the home.
How does home automation work?
Home automation is accomplished by creating a network of hardware devices and electronic interfaces that communicate over the internet—in other words, connecting your everyday household smart devices and appliances to automate their functions.
How is this done? Household devices connect to your smart home WiFi network and can communicate with each other via the same network. Home automation systems make it easy to control multiple devices and appliances throughout your home from a central dashboard in a smart home manager app—though you'll still be able to control each device manually whenever needed.
Home automation consists of three main components: sensors, actuators, and controllers.
Sensors monitor temperature, light, motion, moisture, detect the opening/shutting of doors and windows, monitor carbon monoxide levels, and detect smoke. A home automation system can adjust its settings based on your programmed preferences and the information it gets from your smart devices' sensors.
Controllers are the smart devices—like tablets, smartphones, and computers—that send and receive messages about the status of the automated features in your home.
Actuators are motors, switches, or valves embedded in smart devices that control a function of the smart device. The motor found inside a motorized smart lock is an example of an actuator.
What do you need to automate your home?
If you choose to automate your home, you'll have to think about what tasks or actions you want to automate and how your devices might work together to make your life easier. You'll also need to consider how you want to control the devices in your home.
Essential components for home automation include dedicated smart speakers that work with digital voice assistants (e.g. Amazon Alexa, Google Assistant) so you can play music or podcasts throughout the house, a device control protocol (a digital communications method for devices), and smart devices with built-in home automation features.
Smart home ecosystem
Three of the most popular smart home ecosystems available are Amazon Alexa, Apple HomeKit, and Google Nest. All three brands include a digital voice assistant which can accept voice commands; Amazon Alexa, Apple Siri, and Google Assistant. You can use a smart speaker for voice commands or an app on your phone or tablet for a visual display of your smart home settings.
While many smart devices include support for the three most popular smart home ecosystems, it's important to check each device before purchasing. Smart home ecosystem support will be labeled on the device packaging and typically include the ecosystem's logo and the text "works with" (e.g. Works with Apple HomeKit).
Smart device control protocol
Choosing a smart home device control protocol is another important aspect of planning for your smart home system―it's essential for enabling your devices to work together. Some of the most common protocols include WiFi, Z-Wave, Zigbee, Bluetooth, and Tread. And if you've been keeping up with tech news, Matter is on the horizon. Matter will finally allow devices from different ecosystems to interact.
Smart home devices
While many connected devices are available on the market, not all work well for home automation. Smart home devices typically include lightbulbs, door locks, smart plugs, home security systems, combination security camera/doorbells, electric window shades, carbon monoxide detection/monitors, and thermostats.
How do you use home automation?
You can do a lot with home automation, like monitor and control multiple connected devices from one place, and get real-time data about device operations, activity, errors, or important alerts. Automation also lets you group devices together,set them to a schedule, or set them to turn on or off only when specific conditions are met. 
Common uses for home automation include setting temperature and lighting automatically before you're due to arrive home or as soon as you leave. Home automation systems powered by artificial intelligence (AI) can learn your daily routines as you leave the house or return home and operate accordingly. Some home automation systems don't use AI but can be manually programmed to follow your habits and patterns. 
Home automation routines also allow multiple devices to work together to detect your presence at home. If the assigned devices determine you are away, the routine can adjust the temperature, start a robot vacuum, or perform other tasks you have programmed while you're out.
The list of things around the house that home automation can help with is long. Some of its most common uses are:
Remote indoor/outdoor lighting control.
Heating/air conditioning thermostat control.
Fire and carbon monoxide monitoring.
Air quality monitoring and purification.
Appliance control.
Live video surveillance.
Home automation security systems and cameras.
Alarm systems.
Integration with digital personal assistants for voice-activated control.
Keyless and hands-free entry.
Real-time alerts over text, email, or push notification.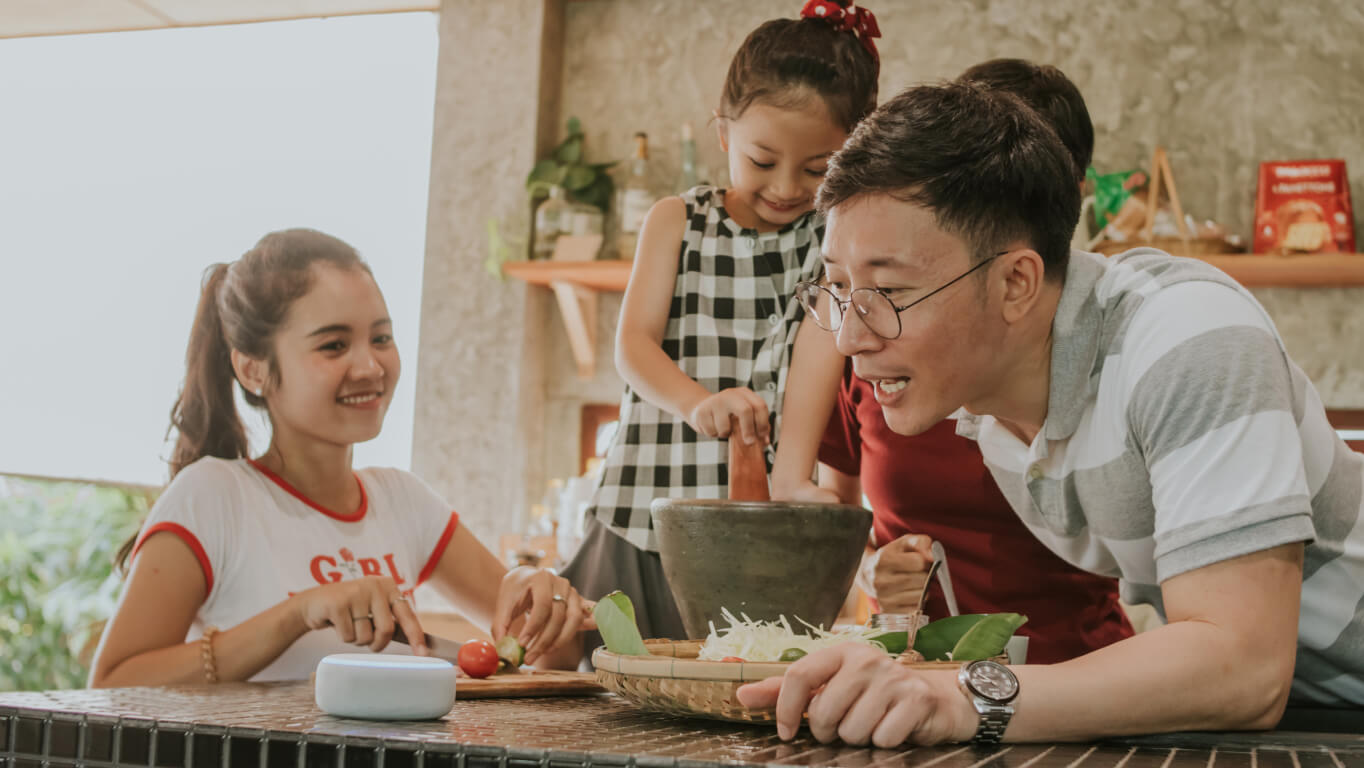 What are the benefits of home automation?
Adding automation to your home can be fun, but more importantly there are real, tangible benefits: energy savings, home security/safety, convenience, comfort, remote access/control, and peace of mind, to name a few. Here are a few of the biggest advantages of automating your home:
Everyday tasks made easy
Spend less time on menial tasks like turning on and off lights in certain rooms, adjusting the thermostat, waiting for your coffee to brew in the morning, or setting up the Roomba—home automation does these things for you, making your morning and nighttime routines smoother with help from personalized and automated smart home settings.
Increased home security and safety
Automated home security systems can give you extra peace of mind by monitoring your home while you're in and out of the house. These systems can provide real-time video and audio, and smart lights with motion sensors shine light in multiple areas when motion is detected, so you'll be alerted to unexpected motion on your property whether you're home or away.
Add smart smoke and carbon monoxide detectors, moisture-monitoring systems that detect leaks, and other monitoring devices to your home, and your smart home automation system can help prevent serious home disasters. 
 Conserving energy
When you discover that the downstairs lights were left on all night, you can practically feel your energy bill going up. But when your lights, speakers, and other devices are set to turn off for you, you don't have to worry about turning things off manually—which means less chances for things to be left on accidentally for long periods of time wasting energy. Smart lights and motion detection devices can help you save on energy costs and use less electricity by automatically adjusting when a room is empty, or you can set a schedule via your home automation app to have devices turn on and off when it's convenient for you. 
Remote access and control
Remotely access and control home devices from a smartphone, tablet, or laptop and easily update settings from anywhere. Left the garage door open? Close it from an app on your phone. Get extra peace of mind when you're away from home by using remote access to check door locks, lights, the garage door, or anything else connected to your automated network. 
Flexibility to improve and adjust 
Smart home automation is flexible because smart device technology and automation are constantly improving.In other words, when your devices are connected to the cloud, as the cloud improves, so can your devices and their performance as new features are added. Also, smart home automation lets you easily add new devices to your IoT network just by setting them up and connecting them to the Internet. Upgrading your kitchen with smart appliances? Prefer to manually control your household lights? It only takes a second to adjust your settings from automated to manual.
How can home automation be controlled?
Home automation devices can be controlled remotely from a smart home control mobile app or a digital voice assistant.
Mobile app
Smart devices are typically controlled with a dedicated app made by the device manufacturer. These controller apps typically support many types of devices from the same manufacturer. Many smart devices can connect to a home automation ecosystem where a single smart home app can control all the smart devices (even devices from different manufacturers).
Digital voice assistants
A digital voice assistant does more than simply play music and search for things on the web. Voice assistants can also control smart home devices. Digital voice assistants are available as audio-only smart speakers or digital displays that also include smart speakers. You can control devices by talking to a digital voice assistant. Most smart home devices support Alexa, Google Assistant, and Siri voice commands.
Alexa
Amazon's Alexa voice assistant is built into the Amazon Echo, Echo Dot, Echo Show, and Echo Auto devices. Alexa is a very popular voice assistant that is compatible with a large number of smart home devices.
Google Assistant
The Google Assistant is available on all Google Nest devices, including the Google Nest Mini, Nest Hub, Nest Cam, Nest Thermostat, Nest Doorbell, and Google Pixel phones and laptops. Google Assistant is compatible with an extensive range of smart home devices.
Siri
Apple's Siri digital assistant is available on Apple HomePod (a smart speaker), iPhone, iPad, and iWatch. The Siri voice assistant is compatible with many smart home devices that work with Apple HomeKit.
Control your smart devices with Plume HomePass
Managing a set of smart devices from lots of different manufacturers can quickly turn into a complex mess of many apps, each with a different interface and device settings. HomePass lets you control all your smart devices with an app on your smartphone or with the Alexa voice assistant. Easily add and remove devices, control who can connect to them and when by creating user profiles for every person in the home, assign specific devices to each person, freeze access on a schedule you choose, and manage guest access—all from the HomePass app.
Automate your home today
Plume HomePass makes managing your smart home devices easy. Plus, it helps protect them from the latest cyber-security threats using AI-powered, enterprise-grade threat monitoring for all your connections. Automate your home with ease and have confidence your network is secured with Plume HomePass.