Plume plays a tangible role in reducing ISP call-in-rates
Posted 10/31/2019, 8:02 PM
Read time: 3 minutes

We all want our customers to be happy. At Plume, we have a responsibility to our own customers, as well as hundreds of millions of customers belonging to ISPs around the world.
Ensuring consistent customer satisfaction with the delivery of home internet services, namely Wi-Fi, can also be one of the hardest challenges to solve. Reliance on the "always-on" smart home means expectations on home networks are high, and unhappy customers can result in significant financial and reputational costs. But, given the growing complexity of the home, ISPs don't always have a direct line of sight to the problem since it can be related to any number of things: Wi-Fi hardware, connectivity, interference, or just bad router placement.
Customer happiness is something we strive for every day and incoming support calls are a key indicator of trouble. Have a look at the stats below from a leading North American ISP: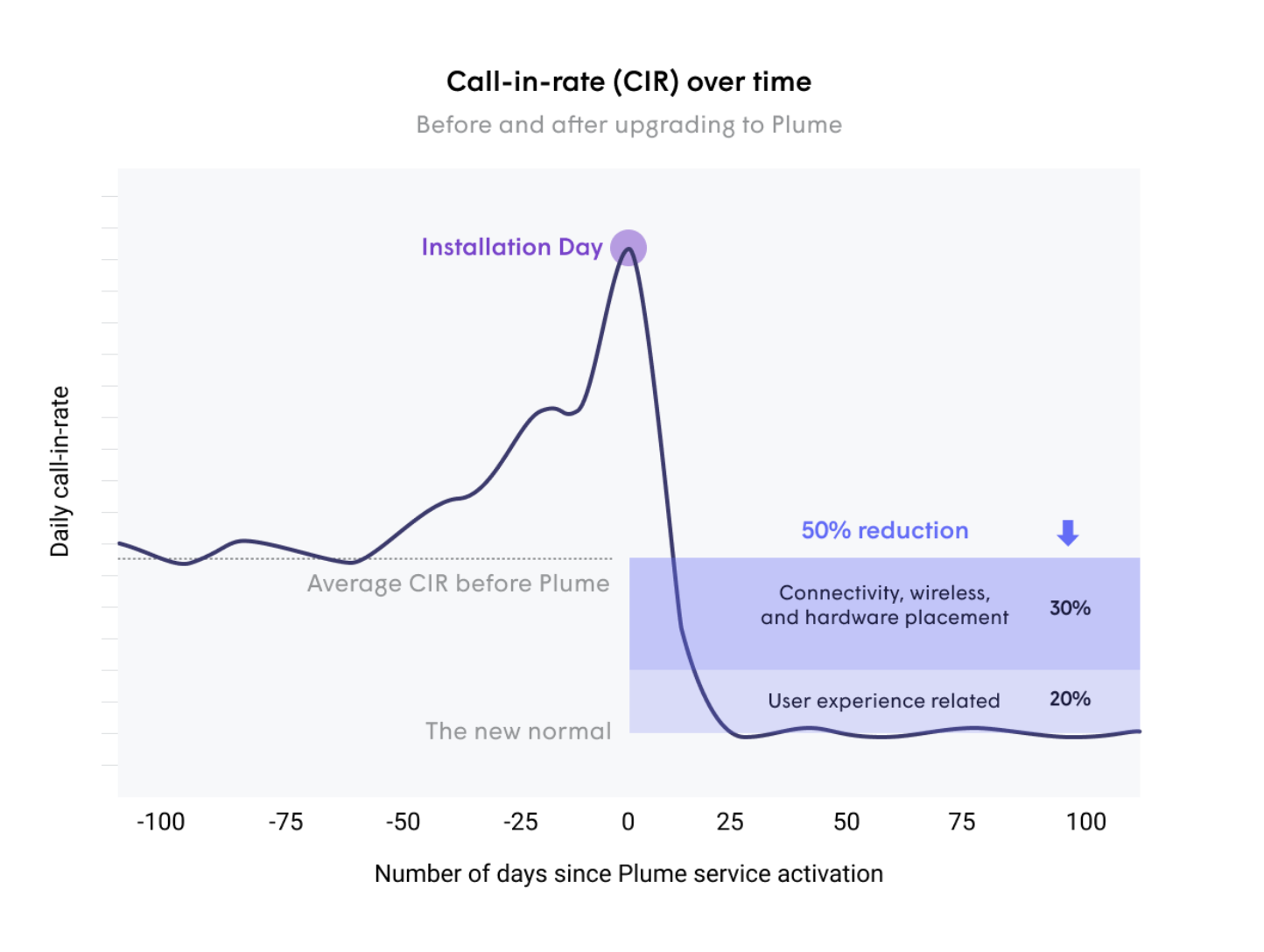 The graph maps inbound calls related to connectivity, wireless, and hardware placement issues and shows the call-in rate (CIR) over time of customers that chose Plume-powered Smart Home Services, in the days leading up to their activation of Plume in their home and the days following. As customers grow increasingly frustrated, it's no surprise that call volume increases dramatically up to the point of resolution through the activation of the Plume service, but the most compelling stat to us is the average daily CIR rate before and after Plume. Across the base, inbound call volume around these categories dropped by 30% after Plume was installed. Factoring in all possible reason codes has seen up to a 50% drop for our partner ISPs.
When you extrapolate out that data, you start to see how adding Plume's next-generation services to a home network can cut up to a third of connectivity, wireless, or gateway hardware-related calls to customer service. Knowing the widely-accepted industry benchmark of $10 per inbound call to support - and that many escalated support issues turn into truck rolls that can cost upwards of $100 - that kind of reduction could make a huge difference when you imagine that impact on millions of homes.
While we offer many additional, value-add services through the Plume Cloud, such as advanced, AI-based security and flexible ways to control internet access for family and friends, this graph takes us right back to Plume's foundational principles.
We knew, early in the days of Plume (before a single pod had been plugged in), that Wi-Fi represented the crucial, yet elusive final few feet of broadband connectivity, but nobody could really guarantee a service level or quality of connection once the internet was inside the home. We also knew that in the minds of most home customers, there is no difference between Wi-Fi and internet connectivity.
As a result, if a problem occurred inside the four walls of their home, customers thought it was still their service provider's problem to fix. Addressing that issue for ISPs was core to our strategy, and seeing data that so clearly demonstrates the impact of our approach is a special moment for the whole Plume team.
Arthur C Clarke once said that any sufficiently advanced technology should be indistinguishable from magic. Bill Gates said that advancing technology means it needs to fit seamlessly into everyday life. We believe the best technology sits at the crossroads of these concepts; that's the kind of magic that makes us happy at Plume.