750 Independent ISPs Join Us on Our Journey
Posted 10/01/2019, 4:32 AM
Read time: 3 minutes

Our Mission
When we started Plume it was on the belief that to truly fulfill the promise of the smart home, we would have to make it so that ISPs could expand their offering from simple Wi-Fi to an ecosystem of services. However, most ISPs' infrastructure made that too complex, too slow, and too expensive to deploy and support. Because of this, a monumental disconnect grew between the speed and evolution of WiFi that consumers–and their devices–demanded, and the ISPs' ability to deliver it.
This is why Plume took a revolutionary approach: Rather than develop a hardware-centric solution with physical limitations, we developed a software-defined network that could evolve with the furious pace of new devices, services, and WiFi consumption. Without limitations, our solution is constantly adapting, learning and growing to help ISPs deliver on the promise of fast and reliable internet, while also giving them unprecedented ways to introduce new services, provide support and troubleshooting, and glean business insights from the data on their network.
Delivering with NCTC
Since our launch in 2014, we've been helping ISPs around the world to deliver on their promise of offering better Smart Home Services to their subscribers. We're now in over 10 million homes and have more than 300 million devices on our cloud. And we're just getting started.
Today marks another milestone in our journey: Our partnership with the National Cable Television Cooperative (NCTC) means more than 750 independent cable operators in the US will be able to take advantage of the Plume offering for the first time.
NCTC members represent operators in all 50 states in the US and look after more than 15 million homes. All those members will now be able to offer their subscribers Plume's next-generation services, including Plume Adaptive WiFi™, HomePass®, and AI Security™–all managed by Plume's award-winning, ISP-branded app, and powerful hardware.
Plume brings an entire stack of next-generation tools to help NCTC members: Powerful and centralized network management, a dedicated support dashboard, and seamless integration with existing OSS and BSS through common APIs, which all open the door to customer service that has never been possible before.
Our Impact
As their customers choose Plume, ISPs will see immediate advantages–more control and quality of the service they deliver, fewer customer calls or home visits, and a happier base that wants to stay put. The impact of our offering stretches across both sides of the network: we offer a rich suite of services that consumers will pay for, while at the same time lowering operational costs to the ISP. Those two things paired with a customer who is less likely to churn means a deeper relationship between ISP and subscriber.
Aggregate Results Seen by Plume's ISP Customers: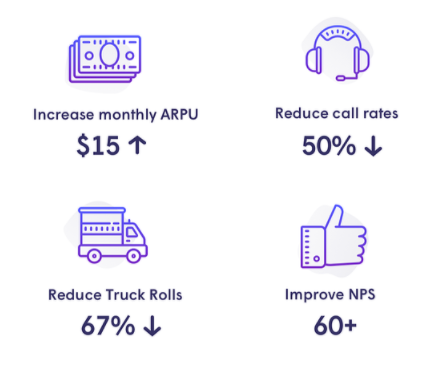 Partnering with Plume
We set out almost five years ago to solve the smart home experience for the benefit of an entire industry, which is why we get so excited to introduce new ISP partners to the Plume platform. To deliver on the promise of the smart home, we believe in the need for a new approach–one that will also alleviate the burden on providers large and small. Forging partnerships with ISPs, from national to independent, means they'll finally be able to finally deliver on the dream that has long been in demand.