Contactless self-install; 3 steps to help protect your subscribers
Posted 05/28/2020, 3:30 PM
Read time: 3 minutes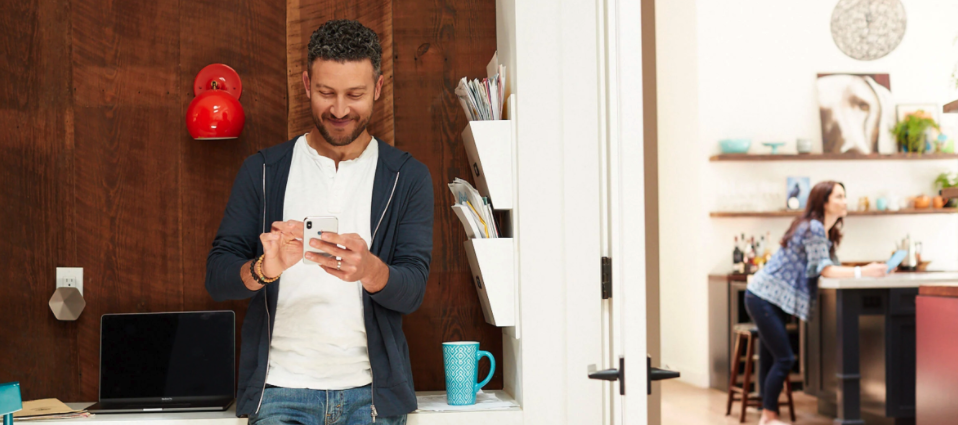 People are staying home, working from home, and keeping their distance from others more than ever to stay safe during the COVID-19 pandemic. This has created new demand for contactless services from businesses of all kinds: restaurants, auto sales, veterinary offices, and also Service Providers (SPs) that need physical access to customers' homes.
Since people began staying home in large numbers, demand for internet services has skyrocketed—Plume data shows that the use of home computers has grown by 122%. Consumers have been using their smartphones (88% increase) and entertainment devices (53% increase) much more, too. An unexpected, rapid increase in demand has the potential to create numerous issues for SPs.
Safety first with Plume self-install:
Broadband SPs have traditionally relied on their technicians visiting customers' properties to install new hardware or troubleshoot problems with existing ones. But now, thanks to Plume, these SPs have a way to keep customers happy and business moving without the need for expensive home visits. That's good for public health, customer retention, and their bottom lines.
Using Plume's Consumer Experience Management (CEM) Platform and the Plume App, Providers can enable quick and easy self-install for new customers and, when needed, support every subscriber remotely via cloud-based tools and dashboards—no technician appointments or truck rolls necessary. Plume's Adaptive WiFi solution is architected to intelligently self-heal many common issues, including interference and congestion, that may otherwise result in support calls or technician home visits.
Here's how it works:
For new installs, the Service Provider ships all required hardware directly to the subscriber's home.
Once the hardware has arrived, the subscriber uses the Plume App to get up and running in just minutes.
If the subscriber later encounters a service issue, the SP can resolve the problem remotely with the help of Plume's cloud-based support tools and data dashboards.
In fact, Plume's CEM Platform includes tier-1, -2, and -3 support tools that make it easy for customer service reps to quickly understand and resolve problems. It can even identify, flag, and prevent connectivity issues before they arise.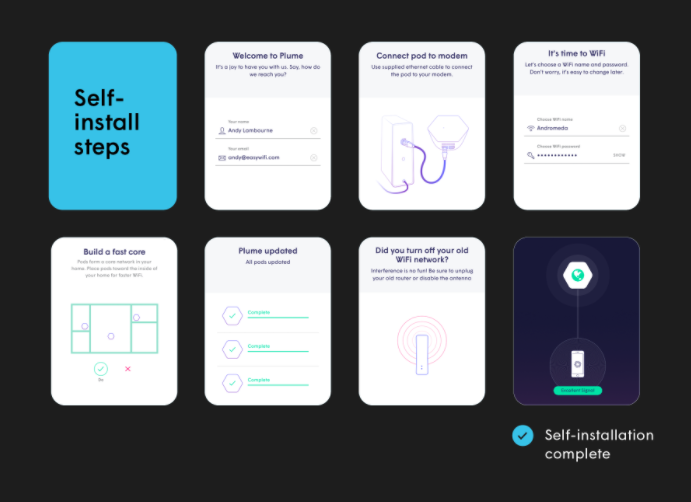 A winning formula for both service providers and subscribers:
A recent internal study analyzing ISP call-in records for over 2 million customers over a 9-month period showed that our cloud-based, intelligent, and contactless support can reduce SP call-in rates by more than 51% and reduce truck roll rates by more than 67%. And customer self-installs can eliminate 97% of the operational costs normally incurred with on-site technician visits.
These services are a win for customers too. Using the Plume App, self-install customers have a success rate of more than 95%. That shows in the consistently high ratings the app receives on both Apple's App Store and Google's Play Store. And greater customer satisfaction translates into lower churn (a 30% improvement), as well as a 70% increase in the average customer's lifetime value. Our customers really appreciate the super simple app-based approach to installing Plume on their own', said Brian Olson, General Manager at i3 Broadband. 'This is particularly important at this time when we're doing our part to limit a technician's need for entering the subscriber's home.'
Even before COVID-19, staying competitive and keeping customers happy was a continual challenge for Service Providers. The pandemic has raised those stakes even higher by forcing everyone to limit social contacts as much as possible. Plume's Platform and App make it possible for these same SPs to rise to those challenges.
To learn more about what Plume can do for your business, or to get started, visit our website or contact us today.