Redefining Triple Play: Plume Recognized with 3 Broadband World Forum Awards
Posted 11/11/2020, 11:50 PM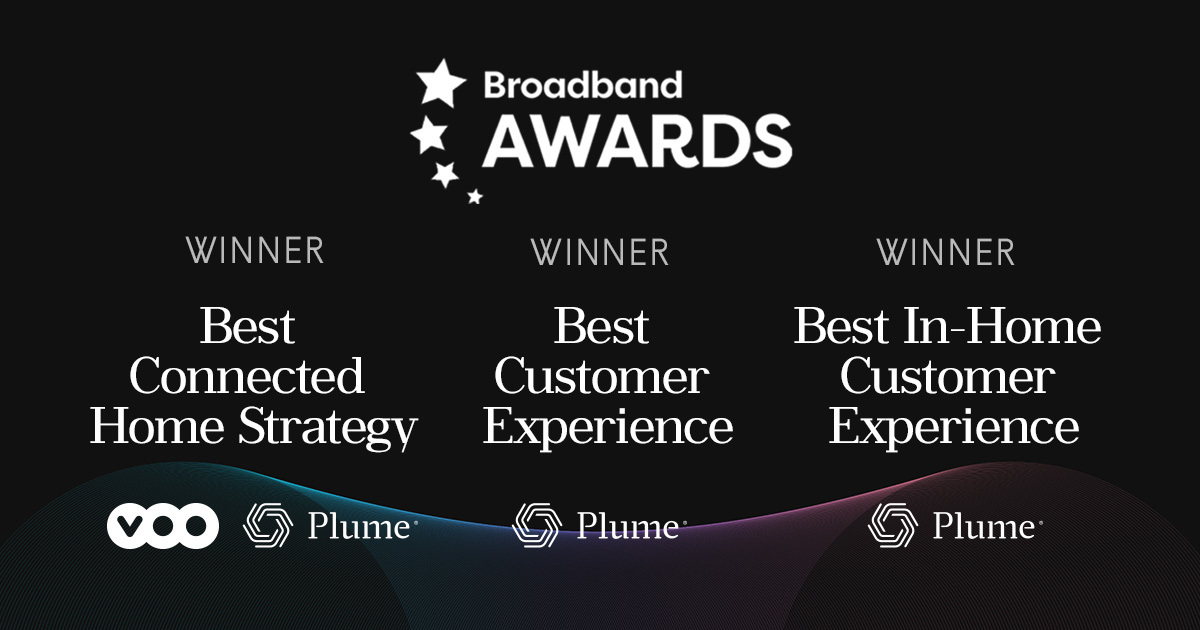 Creating a winning customer experience has always been at the heart of Plume's mission to develop a Smart Home Services Platform that helps Broadband Service Providers surprise and delight their subscribers while growing their own business.
That's why we're honored to have recently received three of the 2020 Broadband World Forum Awards. Plume earned accolades in the following categories to mark the success of our Consumer Experience Management (CEM) Platform:
Best Customer Experience
Best In-Home Customer Experience
Best Connected Home Strategy
The Broadband World Forum Awards are one of the most prestigious recognition of excellence in the broadband industry, judged by a panel of experts and analysts from leading companies around the world. Judges evaluated dozens of competitors in each category, analyzing each submission against criteria including affordability, customer commitment, innovation, and quantifiable results.
We're particularly proud that two of the awards recognize Plume for what we consider to be our greatest strength: our customer experience. From design to implementation to support, everything we do is completely focused on delivering the best smart home experience on the market. While our customer reviews and the feedback we get from our Service Provider partners tell us that we're on the right track, recognition from our industry peers is undoubtedly a welcome bonus.
We're pleased to also be jointly recognized for the Best Connected Home Strategy Award along with VOO, a leading provider of broadband cable services in Belgium. We worked with VOO to help them launch VOO WiFi+ Powered by Plume, allowing VOO to bring game-changing smart home experiences designed to improve, personalize, and secure the home networks of their customers.
"Following our deployment of VOO WIFI+ Powered by Plume, we've witnessed significant improvements in service uptake and customer satisfaction," said Cristina Zanchi, CCO at VOO. "In particular, the insights provided by Plume's back-end support tools and data dashboards enable us to support our subscribers more proactively, which has led to unprecedented operational improvements."
While this year's BBWF awards were held entirely online for the first time due to the pandemic, we celebrate our triple-play success at our office, around our kitchen tables, and everywhere else we're working this year.