Intelligence and insights for the smart-home industry
July 2020
Welcome to Plume IQ, our reveal of data-driven intelligence and consumer insights from more than 2.5 billion connected devices, and over 55 million locations, managed by Plume's cloud platform.
Are voice assistants driving IoT growth?
True smart home control is now accessible to every consumer—from intelligent thermostats to connected light bulbs. But what role do voice assistants (VAs) play in stimulating the IoT market? Plume data highlights an interesting cumulative impact—smart home users add more IoT devices following each VA deployment they make. And, while the VA category has plenty of headroom (30% of sampled households have deployed a VA, while year-on-year growth was recorded at 10%), each VA can also be seen as a gateway, since users tend to rush to add more after each one they deploy.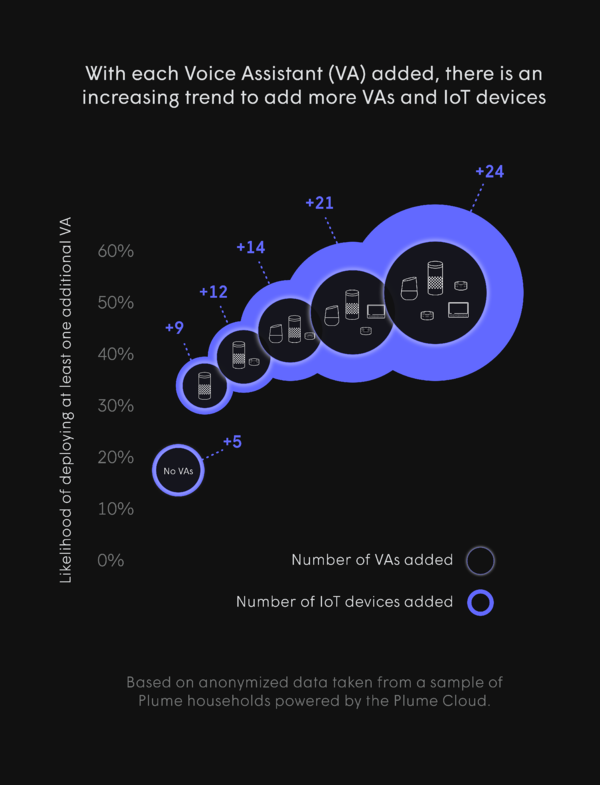 Other Plume news
Winning ways
Executives from Charter Communications, VOO, and All West Communicationsrevealed exclusive insights into their smart home strategies on our latest webinar. Tune into the recording to learn more about:
How Plume's data insights are enabling Charterto manage smart homes more effectively, and generate significant operational gains.
Why Plume's Consumer Experience Management Platform has been instrumental in helping VOOincrease subscriber satisfaction.
How Plume is helping All Westoffer new app-driven subscriber services, and deploy them rapidly through a contactless self-install model.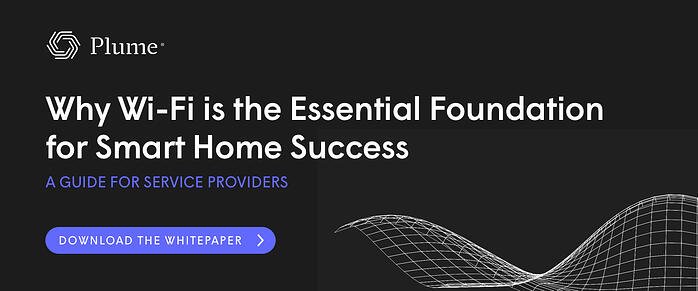 Essential foundation
People are transforming their homes into smart homes, adding intelligent devices of all kinds—from voice assistants to thermostats, security systems, to doorbells, and more. With so many smart devices, households need the foundation of flawless, ubiquitous Wi-Fi more than ever. Managing such an expansive device landscape often creates a number of challenges for Service Providers. Our latest whitepaper shows how subscribers' expanded service expectations can be met successfully.
Download the whitepaper >

Doubling-up at Cable Next-Gen
Plume's Tyson Marian, Chief Commercial Officer, and Adam Hotchkiss, Co-founder and VP Product join broadband industry leaders to highlight the latest technology developments at Light Reading's Cable Next-Gen Technologies and Strategies virtual event. They'll highlight why data has the power to revolutionize the way that cable providers achieve success by enabling highly personalized smart home experiences:
Data insights for cable providers: 27 Aug., 10:45am - 11:00am, EDT.
Smarter than the average home**:**27 Aug., 12:30pm - 1:15pm, EDT.
Learn more >

In the press
Plume's Co-founder & CEO Fahri Dinerhas been acknowledged in Cablefax's Top 100 Power Players! When asked what working-from-home during the pandemic has taught him, Dinercited that 'consistent, full night's sleep in one time zone is priceless!"
Read the article >
"Service providers should look at how consumer behaviors have changed—and continue to evolve—during the pandemic to better assess and plan for what's ahead", Plume's CMO, Todd Grantham highlights how COVID-19 is accelerating the future of home connectivity in Broadband Technology Report.Read the article >
Congratulations to Sky Italia on the launch of its fiber-based triple-play broadband service! Wi-Fi NOW's Claus Hetting reports that the new "Sky wifi", whose hardware runs on the OpenSync open-source smart home platform, is currently available in 26 cities across Italy with plans to grow.
Read the article >
Was this newsletter useful?