Intelligence and insights for the smart-home industry
July 2021
Welcome to Plume IQ, our reveal of data-driven intelligence and consumer insights from more than 2.5 billion connected devices, and over 50 million locations, managed by Plume's cloud platform.
Consumers accelerate smart home investment
Plume has surpassed a major milestone as more than 1 billion devices have been managed by our cloud controllers globally. We've been closely monitoring smart home usage trends throughout the pandemic, and are excited to reveal insights from more than 30 million locations currently managed by the Plume Cloud. Here's a taster:
Fitness bikes and trainers boom in the U.S.: the category is up 132% from October 2019 to May 2021.
**Home control is big in Europe:**Smart light bulbs grew 233% and security cameras grew 29% from May 2020 to May 2021.
Wearables trending in Japan: residents turned to new ways of tracking their health, as the wearables and smartwatches category increased by 127% between May 2020 and May 2021.

Other Plume news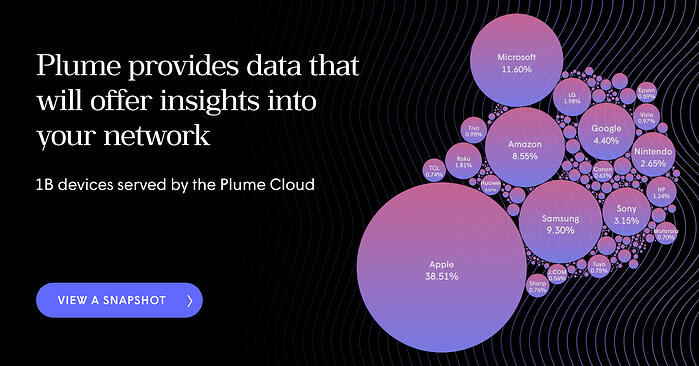 Can you really see inside your network?
Plume provides data that enables service providers to really see inside their networks, leading to effective and proactive management, and an array of operational benefits including reduced truck-rolls, lower call-in rates, and reduced churn.
View a snapshot >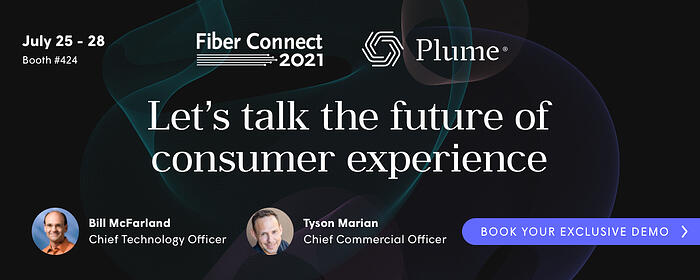 Are you ready for Nashville?
Fiber Connect 2021kicks off in Nashville on July 25 and Plume will lead the way as it invites visitors to see the future of customer experience at booth #424. Join our Executives as they take to the stage to deliver insights on how CSPs can address the changing fiber market, open-source and WiFi 6:
July 26, 5.00pm CDT: Meet OpenSync – Bill McFarland
July 27, 8.40am CDT: A view from the top – Tyson Marian
July 27, 1.00pm CDT: WiFi 6 demystified – Bill McFarland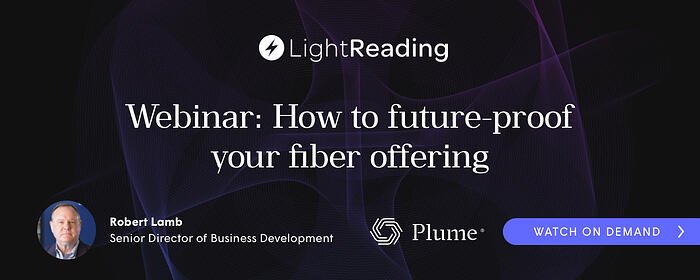 The future of fiber
Our Sr. Director of Business Development, Robert Lamb, joined Light Reading's Alan Breznick and Fiber Broadband Association President and CEO, Gary Bolton to discuss the changing broadband landscape, and how fiber providers can extend customer experience more deeply throughout the home.
Watch on demand >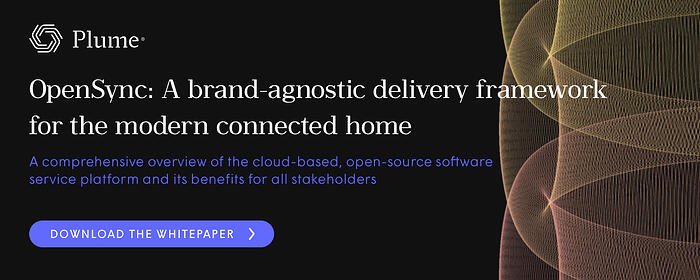 The power of OpenSync
It's every early adopter's dilemma: Almost as soon as you've installed a new device in your home, it becomes outdated. Smart home owners are particularly tired of this cycle. While they want access to the newest features and services, they don't want to have to install new hardware every six months to get it. OpenSync can help Original Design Manufacturers (ODMs) support CSPs in their quest to deliver a better experience to subscribers.
Download the whitepaper >

News round-up
Inc.'s Joel Comm highlights the importance of robust cybersecurity as businesses continue to rebound from the pandemic in the work-from-home era.
Read the article >
Forbes's Shep Hykenhighlights how small business owners can build customer loyalty by delivering optimized experiences for customers, starting with flawless connectivity.
Read the article >
Broadcasting + Cable (p. 47) reported on Plume's latest consumer insights, highlighting that for many U.S. households, time spent on home networks during the working day remains 77% above pre-pandemic norms.
Read the article >