Intelligence and insights for the smart-home industry
February 2021
Welcome to Plume IQ, our reveal of data-driven intelligence and consumer insights from more than 2.5 billion connected devices, and over 55 million locations, managed by Plume's cloud platform.
Crossing the digital divide?
Following the announcement of the winners of the Rural Digital Opportunity Fund (RDOF), designed to boost broadband services in rural areas of the U.S., we investigated Plume data to determine the extent of the so-called "digital divide". At a connected device level, laptops have seen higher use in urban homes, likely driven by the work-from-home era, while smartphones and tablets show less disparity in usage. However, the telling metric is broadband speed. While increasing, speeds to rural homes aren't as fast or accelerating as quickly as in urban areas.

Other Plume news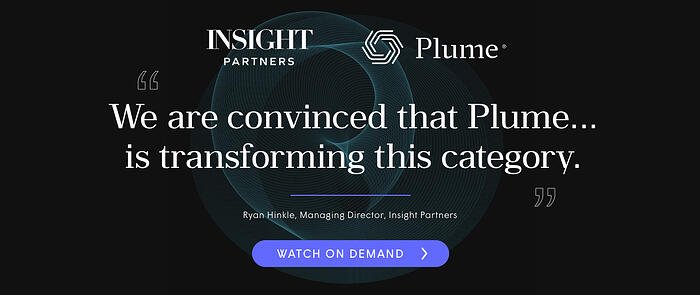 A new era
We're thrilled to announce the completion of Series E funding in securing a $270 million investment from Insight Partners . This latest round at a $1.35 billion valuation will drive our accelerating growth and expansion into new markets and service segments.
Watch the LinkedIn Live webinar >
Read our Co-founder & CEO's blog post >

Multiple choice
We're excited to announce over 20 Wi-Fi 6 CPEs fully supported by OpenSync ! The powerful combination of the most widely deployed open-source silicon-to-cloud framework, Plume's SaaS Experience Platform, and the latest Wi-Fi 6 technology enables CSPs to fully optimize the experiences that they deliver to subscribers.
Read the announcement >

Wi-Fi 6: Myth or magic?
The roll-out of Wi-Fi 6 is underway, but what benefits do the latest specs bring to CSPs? We've heard many views, from "providing the panacea for solving in-home connectivity woes'', to "it's a generational step and no big deal." However, where does the myth end and the magic start? Plume's CTO Bill McFarland provides the definitive word in his keynote from the Fierce WirelessWi-Fi Summit .
Watch on demand >

News round up
Wi-Fi NOW's Claus Hetting wrote "The company [Plume] – which is one of the fastest growing startups in all of tech right now – has gone from zero to a valuation of US$1.35 billion in less than five years."
Read the article >
TechCrunch's Ingrid Lunden reported "In a telecoms world that has long fretted over the idea of being cannibalized and relegated to the role of a "dumb pipe", it [Plume] provides a way for those carriers to build services – apps, as it were – on top of that Wi-Fi connectivity."
Read the article >
TelecomTV's Ray Le Maistre said "Plume has been around for more than six years but has really gained traction in the past year as its communication service provider customers add its software to their CPE devices and management platforms."
Read the article >
Was this newsletter useful?