Intelligence and insights for the smart-home industry
September 2021
Welcome to Plume IQ, our reveal of data-driven intelligence and consumer insights from more than 2.5 billion connected devices, and over 55 million locations, managed by Plume's cloud platform.
Do devices make the right connectivity choices?
Even the smartest devices need help to ensure that they deliver a fully optimized Quality of Experience (QoE), whatever the prevailing in-home network conditions. Congestion, interference, and load all combine to create their own unique challenges—one of the ways that Plume maintains QoE is by steering devices to the best access point (AP) and WiFi band to maintain capacity and throughput:
Steering is critical: During the year ending August 31, 2021, we carried out 206 billion total steering events in smart homes and small businesses across our cloud
Devices behave differently: Smartphones, smartwatches, and cameras need to be more frequently optimized with an average of 6.0 , 5.5, and 3.5 steers per day in August 2021
**Steering is complex:**looking across a range of common devices, Apple iPhone 11 requires a higher proportion of band only steering (45%), while Amazon's Fire TV Cube requires more AP only steering (80%)

Other Plume news

Virgin territory
We're excited to announce an expansion of our partnership with Virgin Media to offer Plume's HomePass Smart Home Services to all UK households. This collaboration will bring smarter home WiFi to millions of people to transform their in-home connectivity with self-optimizing, adaptive WiFi, motion awareness and real-time alerts, sophisticated parental controls, and AI-powered cybersecurity.
Read the press release >

Critical utility
We're thrilled to unveil a key partnership with the Communications Supply Service Association (CSSA), the leading supplier to utility-based broadband service providers throughout North America. This new collaboration immediately widens the availability of Plume's SaaS experience platform into the rapidly expanding utilities sector.
Read the press release >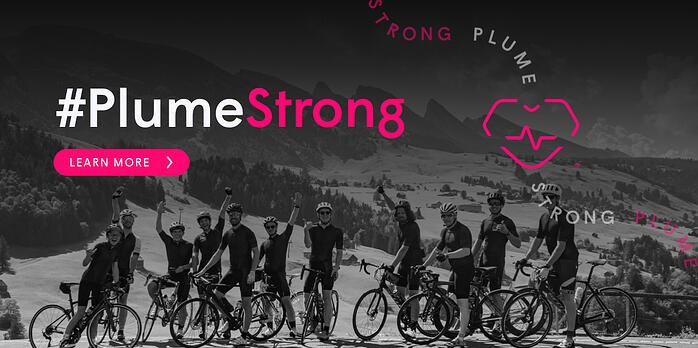 Saddle up!
This month, we introduced the first annual #PlumeStrong Cycling Challenge. This epic, charitable ride took five days and covered a massive 657 kilometers between Plume's offices in Zurich and Ljubljana. The riders' efforts helped us to:
Donate 45 bikes and helmets in Slovenia through the Slovenian Association of Friends of Youth
Provide 31 families in Switzerland with HomePass memberships
Donate over $24,000 to the #PlumeStrong scholarship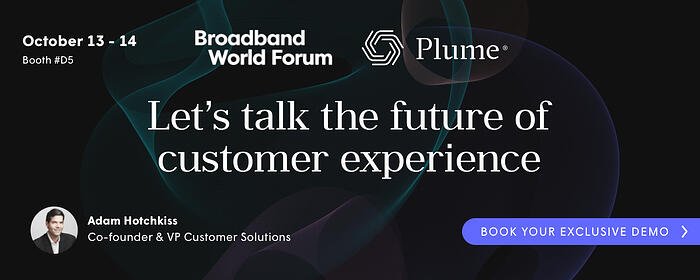 Back to Amsterdam!
Plume is delighted to return to the Broadband World Forum in Amsterdam where we'll be showcasing the latest developments in customer experience! To mark the 3-year anniversary of OpenSync, Adam Hotchkiss, Co-founder & VP, Customer Solutions will deliver a keynote highlighting how the silicon-to-service framework is now helping over 230 CSPs to mitigate silicon shortages and deliver new services to over 35 million smart homes and small businesses worldwide.
Book your exclusive demo >

In the press
Congratulations to our Co-founder & CEO Fahri Diner who was recently named in Light Reading's "Broadband 50 to Watch"!
Read the article >
TMCNet's Lisa Frank offered some timely advice for CSPs looking to survive the ongoing chip shortage, with potential respite coming from the powerful combination of cloud and open-source software.
Read the article >
We're delighted to scoop Best SaaS Innovation in the Internet of Things (IoT) at the SaaS awards 2021 which celebrates "the brightest and best in cloud computing".
Learn more >