Intelligence and insights for the smart-home industry
October 2021
Welcome to Plume IQ, our reveal of data-driven intelligence and consumer insights from more than 2.5 billion connected devices, and over 55 million locations, managed by Plume's cloud platform.
Do fitness devices boost WFH productivity?
The pandemic has fuelled an unprecedented work-from-home era, and in some Plume-powered households, we've seen a peak increase of over 120% in network-based activity during the working day. This month, we analyzed data usage patterns for key device types to reveal some interesting trends:
In the morning, laptop usage surges following a peak in fitness bike usage: Fitness bikes show a dual peak usage profile, closely mirroring the start and the end to the normal working day. However, in the morning laptop data usage really starts to soar after the peak in fitness bike usage as people become more productive.
Huge variation in laptop usage: During the daytime when laptops are being used for work-based productivity, upload usage closely mirrors download usage. However, in the evening upload usage falls away rapidly while download usage surges, indicating a change to video consumption.
**Smartphone usage is flat during the day:**This indicates that people are prioritizing their laptops for work-based productivity. However, early morning and late night peaks in smartphone data consumption point to high usage ofbothupload- and download-heavy applications such as social media.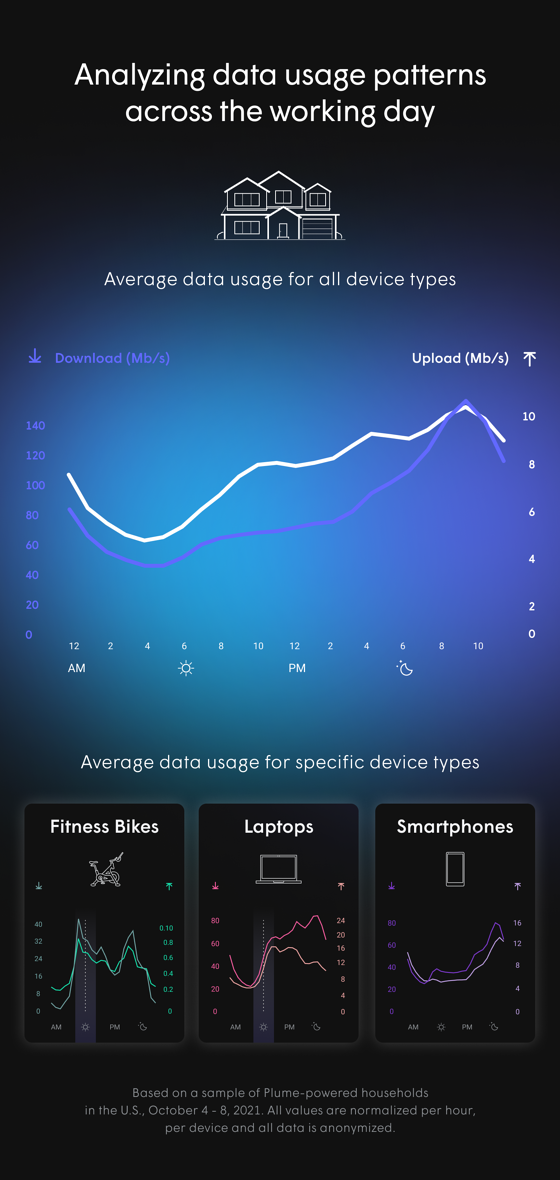 Other Plume news

Ever onward
We're thrilled to announce our latest funding round of $300 million, led by SoftBank Vision Fund 2, which brings Plume's valuation to $2.6 billion. This latest investment will continue to drive research and development, sales and marketing, partnerships, and acquisitions as we continue our global expansion and hyper-growth.
Read the article >

Expanding our footprint
We're excited to announce that DZS has partnered with Plume to launch DZS Xperience , a cloud-based customer experience management solution that integrates our award-winning services suites and OpenSync! This new solution is available to DZS's vast network of service providers globally and provides the tools and insights to transform the broadband subscriber experience.
Read the press release >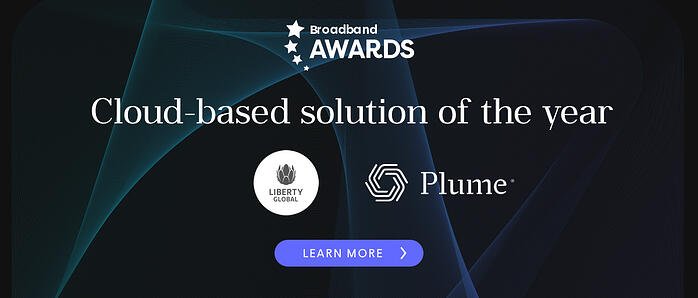 Sing when you're winning
The expert judging panel at Broadband World Forum recently awarded Liberty Global and Plume with Cloud-Based Solution of the Year, recognizing our combined achievement in introducing ONEConnect. As the inventor and pioneer of adaptive WiFi, we are both delighted and honored that our commitment to delivering an impeccable consumer experience has been recognized.
Learn more >

Three fantastic opportunities
We're continuing our in-person events program through November and December to bring you three fantastic opportunities to meet the Plume team and learn more about our SaaS experience platform:

In the press
TechCrunch's Ingrid Lunden offered her perspective on Plume's latest funding round as she spoke with our Founder & CEO Fahri Diner and Nagraj Kashyap, Managing Partner, SoftBank Investment Advisers .
Read the article >
Our Founder & CEO Fahri Diner discussed Plume's latest funding round and expansion plans with Wi-Fi NOW's Claus Hetting .
Watch the interview >
Congratulations to our partner JT Group on winning "Gold" in the "CX in the Crisis" category at this years' UK Customer Experience Awards !
Learn more >