Intelligence and insights for the smart-home industry
September 2020
Welcome to Plume IQ, our reveal of data-driven intelligence and consumer insights from more than 2.5 billion connected devices, and over 50 million locations, managed by Plume's cloud platform.
Is expectation building ahead of a new iPhone?
With rumors that a new iPhone is about to hit the streets, we analyzed data from Plume households to chart the latest popularity trends. While Apple continued to dominate the installed base of active smartphones at 69%, actual growth August 2019 through September 2020 was flat. Heading into September, a general slowdown was evident for many iPhone variants active on Plume home networks, however, the larger screen models XR, 11, and 11 Pro Max bucked the trend.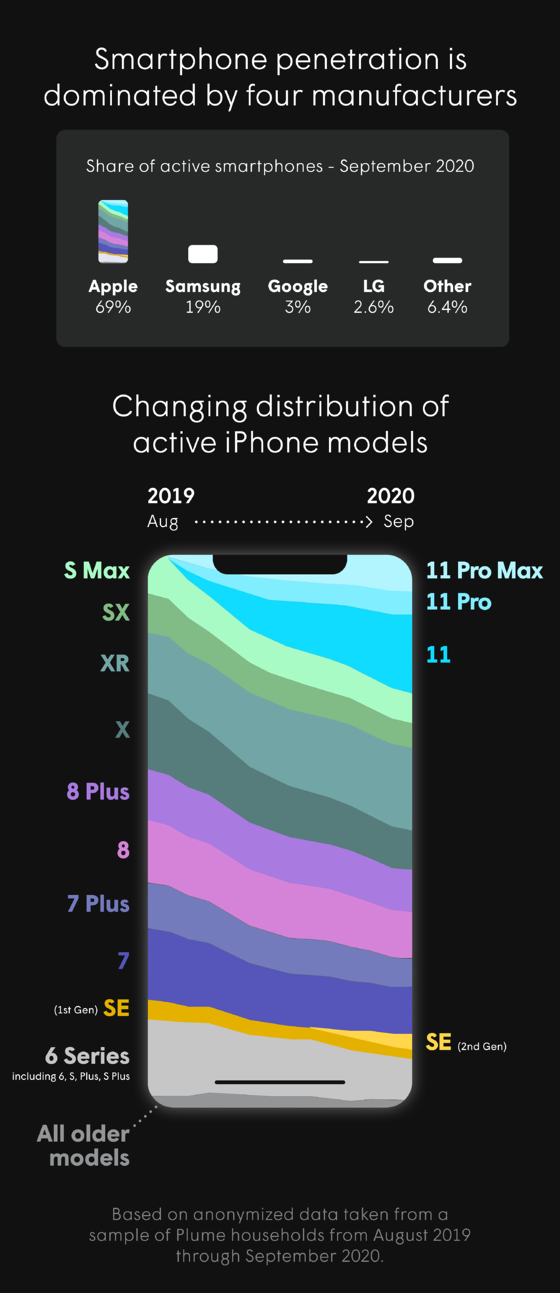 Other Plume news

Goodbye commoditization!
We're delighted to share news of the latest Service Providers to deploy Plume! In Portugal, NOS unveiled Power Wi-Fi in partnership with Plume, to ensure that customers receive fast, flawless, and secure Internet to meet the unprecedented connectivity needs of the work-from-home era. While Puerto Rico's AeroNet launched AeroMesh Wi-Fi, Powered by Plume to massively enhance the subscriber's online experience through self-optimizing Plume Adaptive WiFi, Advanced User Controls, and AI Security.
Read the NOS press release >
Read the AeroNet press release >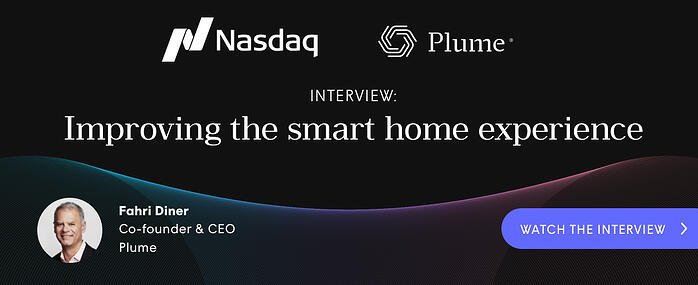 Experience first
"With so many people working and learning from home, powering our smart homes and keeping us connected is more important than ever."— Jill Malandrino, Global Markets Reporter, Nasdaq met our Co-founder & CEO Fahri Diner to learn more about how Plume is bringing a revolutionary new bundle of services to smart homes, and at the same time improving working- and learning-from-home experiences.
Watch the interview >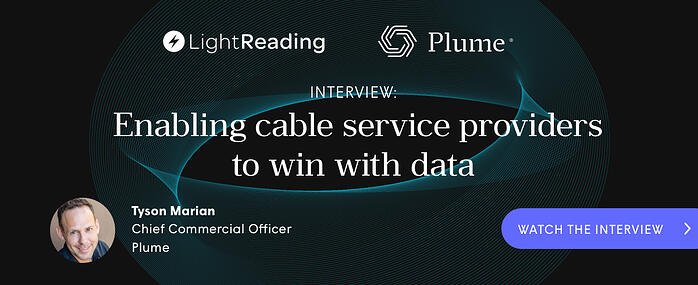 Data revolution
As work-from-home accelerates the demand for hyper-connectivity and personalization, Plume's CCO Tyson Marian joined Light Reading's Alan Breznick to highlight the market dynamics that are driving Service Providers to take a data-drivenapproach to the smart home. Marian discussed how the acquisition, organization and leveraging of data through Plume's Consumer Experience Management (CEM) Platform is enabling Service Providers to make significant operational gains—from increased ARPU to truck-roll reductions.
Watch the interview >

Ready for Expo?
SCTE's Cable-Tec Expo returns this year in a new all-digital format as technical leaders come together on the virtual stage. Plume's CTO Bill McFarland has been invited to present his latest technical paper: Connectivity and COVID-19: Maintaining QoE During a Crisis. Referencing data insights from the Plume Cloud, McFarland will put forward a new field-proven Quality of Experience (QoE) algorithm that mitigates the exponential load and interference issues that have the potential to disrupt smart homes.
Learn more & register >

In the press
In the latest IABM Journal, Fahri Diner, Co-founder & CEO, and Mark Goodburn, Director of Product Marketing, discussed Plume's mission to transform broadband suppliers' offerings.
Read the article >
Wall Street Journal's Angus Loten reported that Internet services are more strained than ever with the increased need for broadband during the shift to working- and learning-from-home—Bill McFarland, Plume's CTOweighs in on this trend.
Read the article >
In his interview with ReadWrite's Brad Anderson, Fahri Diner Co-founder & CEO, Plumeshared how all roads lead straight towards Plume Adaptive WiFi for remote workers.
Read the article >
Was this newsletter useful?