Intelligence and insights for the smart-home industry
May 2019
Welcome to Plume IQ, our reveal of data-driven intelligence and consumer insights from more than 2.5 billion connected devices, and over 55 million locations, managed by Plume's cloud platform.
Smartphones: Do bigger screens drive higher data usage?
Manufacturers have introduced both regular and large-screen versions of the same model, but do consumers use them differently? We analyzed Plume dataand found that screens larger than 5" consume 26% more data than their smaller screen counterparts. Interestingly, Apple's big screen users consume a whopping 53% more data than Samsung's. Does this mean that bigger really is better?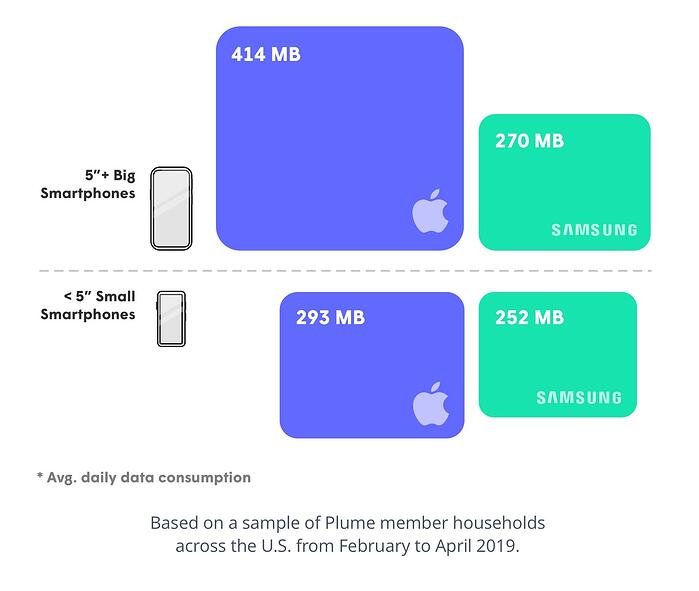 Other Plume news:

Island hopping
Plume continued its rapid roll-out in May. Virgin Media has made Plume available to a selection of its UK-based customers. Leading utilities provider Nova Energy introduced intelligent smart home services to New Zealand's shores. Cablenet, the leading quad-play services provider in Cyprus, also strengthened its smart home proposition with Plume.

OpenSync Academy opens!
The first ever OpenSync Academy was hosted in Ljubljana, Slovenia in May and attended by leading CPE and silicon vendors including Arris, Humax, and MediaTek. Delegates shared ideas on the expansion and industry-wide adoption of OpenSync as an open source platform to rapidly develop, launch, and scale AI and cloud-based services. Want to learn more? Ask about OpenSync Academy courses .
Cologne calling
Plume debuts at ANGA COM with three senior executives taking the stage to share insights on Plume's intelligent approach to the smart home:
Request your exclusive demo in our private meeting suite (hall 8, MS20) or learn more about Plume's presence at the show.