Intelligence and insights for the smart-home industry
October 2020
Welcome to Plume IQ, our reveal of data-driven intelligence and consumer insights from more than 2.5 billion connected devices, and over 50 million locations, managed by Plume's cloud platform.
What are the trends between motion and data usage?
Wi-Fi motion detection has endless possibilities—from intrusion detection, to health monitoring. However, is it possible to correlate motion to data usage? Plume data reveals that between 6.00 AM and 8.00 AM there's a sharp increase in movement mirrored by a steep increase in smartphone and entertainment device usage as data is consumed on-the-move. However, there's a notable drop-off in motion from 7.30 PM, coupled with a peak in entertainment device usage at 10.00 PM, suggesting that families really do kick-back and relax in the evening.
Learn more about Plume Motion >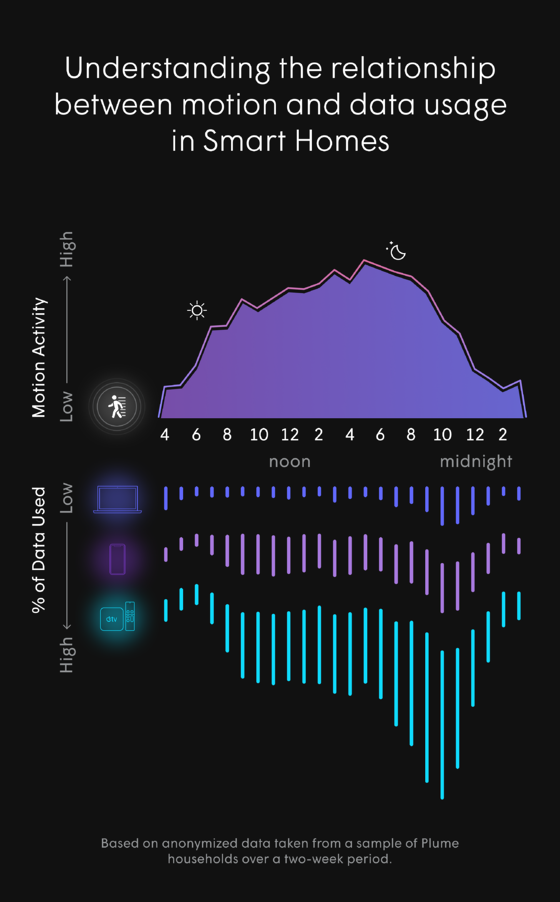 Other Plume news

Latest stop: Channel Islands!
Today, broadband speed alone is insufficient. Modern subscribers demand flawless Adaptive WiFi, robust cybersecurity and proactive support, delivered through a highly personalized portfolio of Smart Home Services. That's why JThas partnered with Plume to provide Channel Islanders with a new bundle of next generation experiences. Daragh McDermott, Managing Director JT Channel Islands said: "Our aim is to provide leading-edge solutions to help customers maximise the potential of the network and the quality of their experience within the home itself."
Read the news release >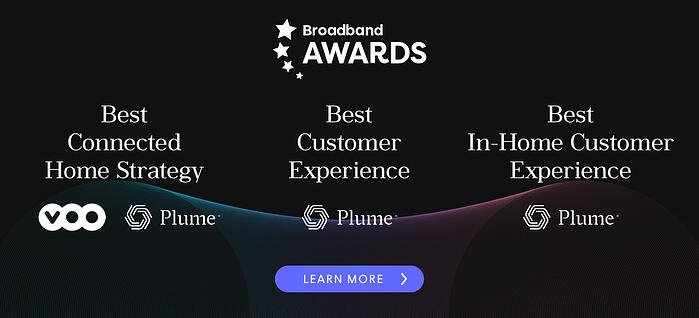 Winner: Redefining triple-play
We're extremely proud that Broadband World Forum's elite judging panel has honored Plume with three awards for Best Connected Home Strategy, Best Customer Experience, and Best In-Home Customer Experience. Speaking about our joint Best Connected Home Strategy win, VOO'sChief Commercial Officer, Cristina Zanchi said: "The insights provided by Plume's back-end support tools and data dashboards enable us to support our subscribers more proactively, which has led to unprecedented operational improvements."
Learn more >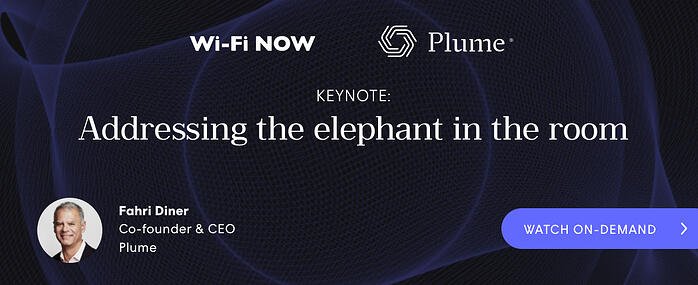 Experience is the new bundle
In a keynote at the virtual Wi-Fi NOW World Congress, Plume's Co-founder & CEO Fahri Diner revealed strategies to combat the biggest issue facing broadband Service Providers today—commoditization. At the same event, Adam Hotchkiss, Plume's Co-founder & VP Product emphasized the critical role that Wi-Fi plays in laying the foundation for a winning smart home strategy declaring that: "There is no newbusiness opportunity in Wi-Fi. Wi-Fi is the enabler so that Service Providers can establish a base to deliver services flawlessly to the customer."
Watch Diner's keynote >
Watch Hotchkiss's panel >

New services: The time is now
Plume's Chief Commercial Officer, Tyson Marian joins an executive leadership panel at Parks Associates' Connectionsto provide insights on how data is transforming the broadband Service Provider's approach to the smart home. In a year that could have been extremely disruptive, Marian will emphasize how Plume's powerful AI algorithms have enabled Service Provider partners to maintain exceptional Quality-of-Experience (QoE) during unprecedented demand, and at the same time pivot to a new services offering.
Learn more & register >

Round-up
Re-watch Plume's CTO Bill McFarland unveil a new model for QoE measurement in his keynote at SCTE•ISBE's Cable-Tec Expo.
Sign-in to watch on-demand >
Ars Technica's Jim Salterreported that a Digital equity program in Maryland adds Plume Wi-Fi to its Internet access, with superior end-user support being a critical component.
Read the article >
With major multinational companies embracing permanent work-from-home arrangements, Plume's CTO Bill McFarland highlights how the need for flawless internet connectivity can be met.
Read the article >
Was this newsletter useful?