Intelligence and insights for the smart-home industry
December 2020
Welcome to Plume IQ, our reveal of data-driven intelligence and consumer insights from more than 2.5 billion connected devices, and over 50 million locations, managed by Plume's cloud platform.
Which geo leads smart home usage?
We dug into our cloud stats to chart the geographical variation across a number of different metrics. In Canada a massive 22GB of data is downloaded per household (HH) on average per day, while in Japan the number drops significantly to 6GB. Conversely, Japan leads on smartphone usage with 3.5 active hours on average per day, while TV and streaming devices is the most active category across all geo's. When it comes to the average number of devices per HH, the U.S. tops the chart on 14.5 with Canada chasing on 14.1.

Other Plume news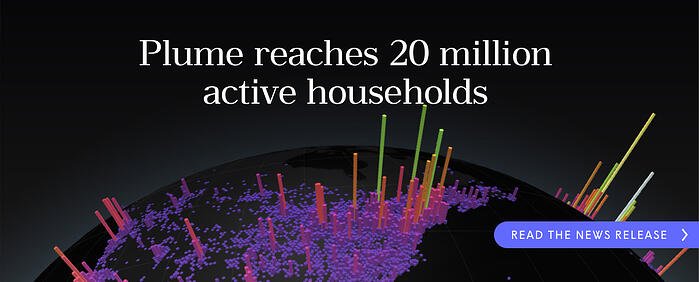 Massive momentum: 20 in 2020!
We're thrilled to share that Plume has reached a significant milestone as we now power more than 20 million homes globally. Over 150 Communications Service Providers (CSPs) now rely on Plume's category-defining Consumer Experience Management (CEM) Platform to deliver a new bundle of smart home experiences to subscribers. "As an early investor in Plume, and their first major customer in the United States, we applaud them for reaching this impressive milestone," said Tony Werner, President of Technology, Product, Xperience, Comcast Cable.
Over 35 partners joined our celebration – read the news release >

Winning double act
We were honored to receive a double accoladeat the virtual Wi-Fi NOW Awards! The independent judging panel awarded Plume's CEM Platform Best Service Provider Wi-Fi Solutionand, together with our partner WightFibre, we secured Best In-Home Wi-Fi Product. "We made the decision to deploy Plume to 100% of our customer base—this provides every WightFibre customer with a great experience. The metrics speak for themselves—our customer satisfaction Net Promoter Score is now consistently in the high 50s," said John Irvine, CEO, WightFibre.
Read the article >

The big interview
As we hit our 20 million active households milestone, Plume's Co-founder & CEO Fahri Diner shared his vision for 2021 and beyond with Light Reading's Senior Editor Jeff Baumgartner. Among many insights, Diner discussed the market headwinds that are driving CSPs to reinvent their offerings and deploy Plume's Smart Home Services bundle, and the foundational role that OpenSync—the fastest growing open-source framework for the smart home—plays in enabling CSPs to drive speed-to-market and huge scale.
Watch the interview >

Problem solving
Plumejoined Service Electric Cablevisionfor a webinar hosted by Cablefax that addressed one of the biggest challenges facing CSPs today—subscriber churn. The session did not disappoint with questions rolling-in from an audience eager to hear about effective strategies for tackling this age-old problem. The speakers explored how CSPs can address churn by leveraging data to achieve game-changing operational results: "We're seeing 14% monthly growth on Plume," said Scott Young, Director of Marketing & Project Management, Service Electric Cablevision.
Watch on demand >

Round-up
Plume's Chief Commercial Officer,Tyson Marian joined Parks Associates' Connections event to share insights on why data is key to revolutionizing the smart home experience.
Watch on demand >
Wi-Fi NOW's CEO & Chairman Claus Hetting wrote: "Every entrepreneur worth their salt knows how challenging it is to scale any new product and solution—which makes Plume's already industry-leading achievements even more impressive."
Read the article >
Plume's Chief Commercial Officer, Tyson Marian delivered a keynote at the Virtual AI Summit New York that introduced a data-driven model to enable CSPs to win in the smart home and beyond.
Watch on demand >
Was this newsletter useful?