Intelligence and insights for the smart-home industry
August 2019
Welcome to Plume IQ, our reveal of data-driven intelligence and consumer insights from more than 2.5 billion connected devices, and over 50 million locations, managed by Plume's cloud platform.
Wi-Fi coverage is more important than ever
Hold the phone
It's well known that support calls and truck rolls have a massive impact on the operational profitability of Internet Service Providers (ISPs). Plume Cloud data shows that call-in rates (CIR) increase rapidly in homes experiencing coverage alarms as the number of devices increases. While Plume households currently have an average of 17 Wi-Fi connected devices, Plume CTO Bill McFarland predicts this number to exceed 31 by 2022. ISPs will need solutions that can accommodate this level of growth to keep CIR at manageable levels. Plume's solution reduces internet-related call-in rates by more than 50%. Read the white paper to learn more about solutions for whole-home Wi-Fi coverage.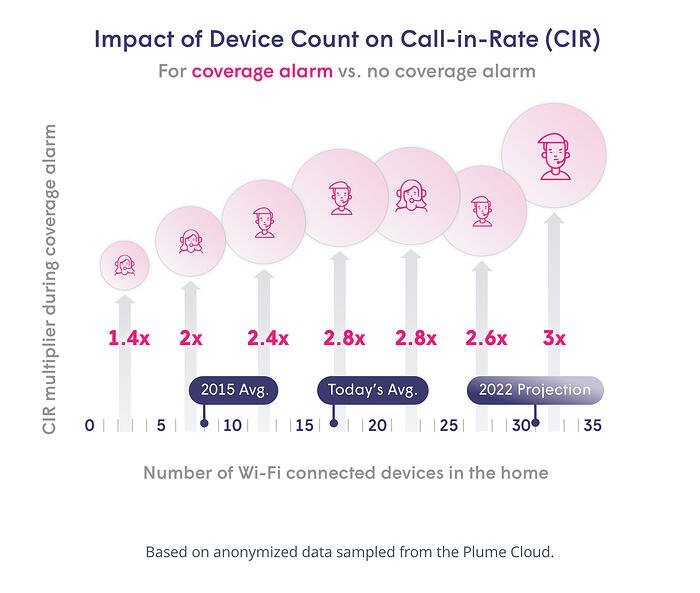 Other Plume news:

Southern migration
Hot on the heels of our launch with Armstrong, Plume has brought its US expansion down south to Point Broadband. Point SmartHome™ Powered by Plume offers subscribers many perks, including personalized controls, device security, and self-optimizing Wi-Fi. Point is also benefitting from a suite of intelligent support tools to help improve customer service and reduce churn.Taylor Nipper, Vice President Marketing, Point Broadband said: "Our customers are thrilled with the Plume performance and we are excited to provide this very powerful service to the communities we serve."

It's time to be OpenSync-ready
OpenSync Academy is the only forum where ISPs, CPE, and silicon vendors can learn all about the wide-ranging benefits of an open-source, cloud-driven approach to smart home service delivery. Plume's technical experts will be on-hand in Slovenia, September 10-12, to provide advanced integration and services development training. The latest OpenSync software release v1.2.4 has just shipped, so now's the perfect time to book your place on a course.

Let's connect in Amsterdam (and New Orleans)
Plume debuts at two major events in the fall! Join us at IBC in Amsterdam, September 13-17, for daily workshops and one-on-one meetings in our private meeting suite. For those stateside, visit our booth #1041 at Cable-Tec Expo in New Orleans, October 1-3. Plume's Chief Commercial Officer Tyson Marian will be joined by leading ISP executives on the Innovation Theatre stage for an exclusive panel session that will reveal how service providers can win on connected experience in the smart home. Request a meeting at IBC >>

In the press
"Rather than face the AT&Ts and Mediacoms of the world alone, Armstrong, the nation's 10th largest provider of broadband, partnered with Plume, a smart home services company. Armstrong subscribers gained access to Plume's Adaptive Wi-Fi service and HomePass network management platform. Not only did Armstrong gain a differentiator, but it also paved a new path to revenue in the process." – Inc. Read the article>>